Here at CloverETL we not only work to create new and exciting features, but also have a workgroup specifically dedicated to improving the "little things". I'm talking about those little things that can help you avoid aimlessly clicking around while trying to do work, or make you think in a quick, intuitive, and productive manner - shortly User Interface Improvements. Listed below are some of the most important tweaks and improvements that CloverETL 3.4 can provide. We think you will find them useful in that they will make working with the CloverETL Designer not only more comfortable, but also more effective.
Graph Editor Improvements:
Zoom into/out of the canvas by holding Ctrl key and scrolling up and down.
Create a new note using a new keyboard shortcut "N".
The Disable/Enable action on a note disables/enables the note and all of the components placed in it. Think of a note as a candy wrapper- it can be used to group components together.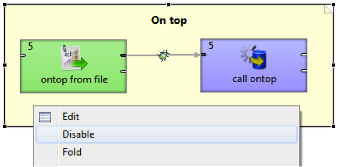 Disable note
Insert a component between two existing ones by dropping it onto the edge between them.

Whether the component is being created or simply moved around, the edge will split and input and output ports will then be automatically connected.

Drop a component onto an edge
Any component can be deleted from the edge. The edge will then remain even if the connected component is deleted.
The Progress dialog is shown during graph validation (checkconfig). You can also make the validation run as a background job.
The Add Component dialog (opened via the toolbar or "Shift+Space") can now also be used to add notes. Additionally, you can choose to view either all the components or just those available in the palette.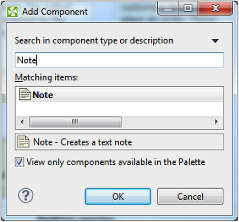 Add component dialog
The Add component dialog

("Shift+Space) supports camel-case search. Just type the first, uppercase letters of the words you are trying to find. E.g. type "UDW" to find "Universal Data Writer".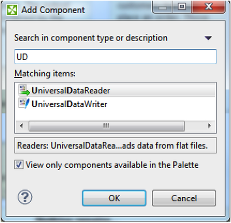 Add Component dialog camel-case search
The new Rich Component Tooltips have been introduced. You can move your mouse over the component status icon in the top right corner to show a tooltip. It contains detailed information such as validation errors and warnings, custom set attributes, connected components and edge metadata.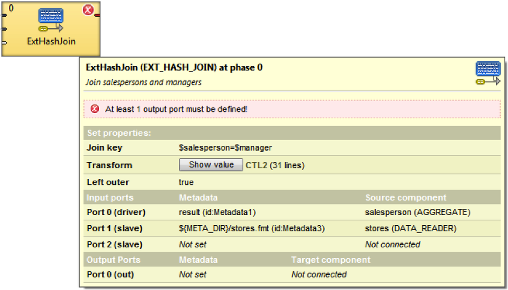 Rich component tooltip
Outline View Improvements:
The Parameter files as well as the parameters themselves are sorted alphabetically, making it much easier for you to find what you're looking for.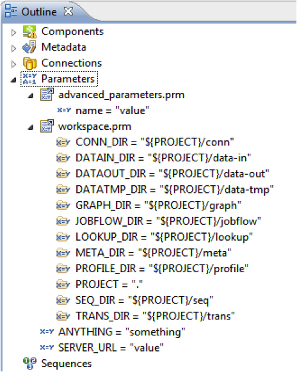 Parameters sorting
A filter is available in the Parameters editor window.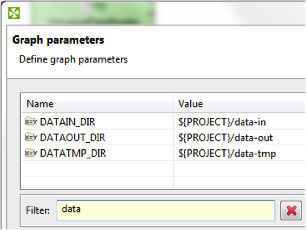 Parameters filter
Ctrl + C, Ctrl + V, Ctrl + X shortcuts now work properly.
The Import Metadata from XSD action is now available on context menu- it used to only be found in the File->Import menu.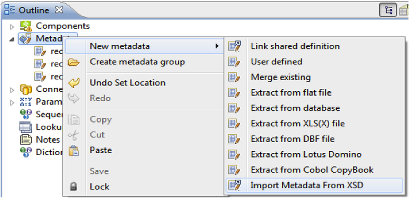 Import metadata from XSD
The Outline tree collapsed/expanded state is remembered when either switching between graph editors or simply editing and saving graphs.
The disabled components are written in gray to indicate their status.

Disabled components at Outline
Working with Metadata:
The Extract Metadata action is available on the readers' and writers' context menus. However, it is only available if it's possible to extract metadata from the input/output. For example, it's available for when the UniversalDataReader is reading a CSV file, but not for the XMLExtract component.

Extract metadata from component input
The Join key editor displays a metadata tree that includes its name, not just flat list of metadata fields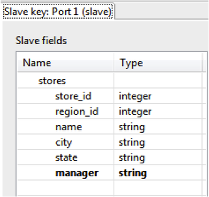 Metadata displayed in Join key editor
The Visual Transformation Editor shows a warning when an input or output port has no edge connected where an edge is required, e.g when editing a Transform attribute of the Reformat component.

A warning in the Visual Transformation Editor when no input edge is connected
The Visual Transformation Editor allows the filtering of input and output metadata fields.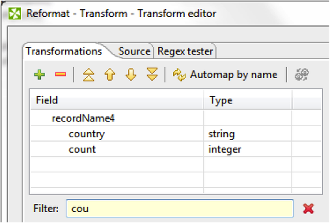 Filtering metadata fields
The Metadata menu is automatically opened right after the new edge is created so that the user can either create a new or use an existing metadata very easily. The Metadata menu can then be opened anytime by double-clicking the edge.

Some more tweaks:
We have added a "New Folder" action in the URL Dialog. It's now possible to delete files and folders (Delete key), rename a file (F2 key), and create new folders on a local file system using a toolbar action (F7 key).

URL dialog improvements
A bulk selection of displayed columns is visible in the View Data dialog.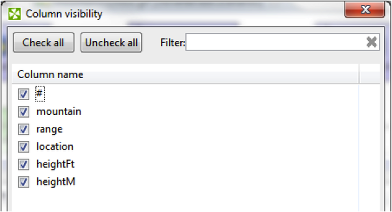 Columns visible in the View Data dialog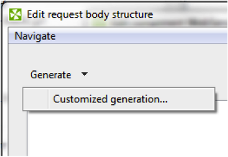 Subtype selection